Regular price
Sale price
$18.00 USD
Unit price
per
Sale
Sold out
Chakra Healing Selenite Wand by Endless Guidance 
7 chakra gemstones wrapped around a selenite wand with copper wire. Selenite is a Stone of mental clarity. Each of the 7 chakras represents a physical, emotional or mental state, helping to enrich one's spirit and well-being. The chakra stones are used to balance the chakras on a daily basis and to enhance chakra healing.
Specifications:
Selenite Wand roughly 7cm - 9cm
7 CHAKRAS: The chakras are the centers of energy, located on the midline of the body.
Please note that all wands are natural and each one is individual and unique as they are handmade, you will receive one chakra wand.
The 7 Chakras are..
The word Chakra means 'Wheel' and refers to the energy points in your body. They are thought to be spinning disks that should stay open, and aligned. 
Root 
Location: The base of the spine, in the tailbone area
Colour: Red
Meaning: Physical identity, stability, grounding
Sacral 
Location: Just below the bellybutton, just above the pubic bone
Colour: Orange
Meaning: Sexuality, pleasure, creativity
Solar Plexus 
Location: The upper abdomen, in the stomach area
Colour: Yellow
Meaning: Self-esteem, confidence
Heart 
Location: The centre of the chest, just above the heart
Colour: Green
Meaning: Love, Compassion
Throat 
Location: The throat
Colour: Blue
Meaning: Communication
Third Eye 
Location: Between the eye's, on the forehead
Colour: Indigo
Meaning: Intuition, Imagination
Crown 
Location: The very top of head
Colour: Violet or White
Meaning: Awareness, Intelligence
Crystal Properties 
7 chakra stones: Clear Quartz, Amethyst, Lapis Lazuli, Green Aventurine, Tiger Eye, Red Agate, Red Jasper
Clear Quartz is considered a "master healer." It's said to amplify energy by absorbing, storing, releasing, and regulating it. It's also said to aid concentration and memory. Physically, clear crystals are claimed to help stimulate the immune system and balance out your entire body.
Amethyst relieves stress and strain, soothes irritability, balances mood swings, dispels anger, rage, fear and anxiety. Alleviates sadness and grief, and dissolves negativity. Amethyst activates spiritual awareness, opens intuition and enhances psychic abilities.

Lapis Lazuli has many properties including the energy of deep calm and a strong connection to cosmic wisdom. A connection that helps one align with a universal quality of truth and integrity. The deep cobalt blue of lapis lazuli has a royal presence, powerful and mysterious.
Aventurine is a stone of prosperity. It reinforces leadership qualities and decisiveness. Promotes compassion and empathy. Encourages perseverance.  Aventurine relieves stammers and severe neuroses. It stabilises one's state of mind, stimulates perception and enhances creativity. Aids in seeing alternatives and possibilities. Calms anger and irritation. Promotes feelings of well-being.  Aventurine balances male-female energy. It encourages regeneration of the heart.  Protects against environmental pollution.
Tiger's Eye crystal properties encourage you to live boldly, fiercely and bravely in all aspects of your life. When you are looking for a boost of courage to help you overcome fear or take risks in your life, there's no better crystal to turn to than a Tiger's Eye crystal. When you channel the energy of Tiger's Eye crystal properties, you'll be able to connect with the ultimate power crystal of the mineral kingdom.
Red agate contributes to the development of your sense of reality. This improves someone's logical thinking and helps in crucial decision making.  Great material in calming and stability, that can be beneficial in self-analysis. Logical thinking could lead to uncovering hidden issues that conflict with well-being.
A powerful crystal that induces self-acceptance and self-confidence. The stability that encourages someone to listen to their inner feelings and logically think about the truth. It deflects the negative and bitter assumption of your love and heals anger. It greatly helps people with traumatic disorders.
Red Jasper is reported to increase emotional focus and balance. Red Jasper is reported to remove negative energy, worry, emotional stress, anxiety and confusion. Red Jasper is great for anxious mood, emotional frustrations, thought clarity, general mood balancing energies and channeling. Red Jasper is said to increase emotional stamina, self confidence, self-trust, emotional protection, courage, balance, calm and relaxation. Red Jasper can also be used for increasing memory of dreams and also increasing sexual vibrancy.
Shipping & Guarantee

Our Guarentee: If for any reason you are not completly satisfied with your purchase, please email us at: info@endlessguidance.com. We respond to all emails within 24hrs and we will always be happy to resolve any issues.

Shipping: FREE Over £30. The shipping time will depend on your exact location. All orders before 2pm GMT will be dispatched same day, during higher demand seasons this may increase to 1-2 working days. We thank you in advance for your understanding & support!
Return policy

In the unfortunate event that an item has arrived damaged, you must contact us within 7 days from the dispatch date at info@endlessguidance.com

Please include a photograph of the damaged/incorrect item(s) for our reference.
Share
View full details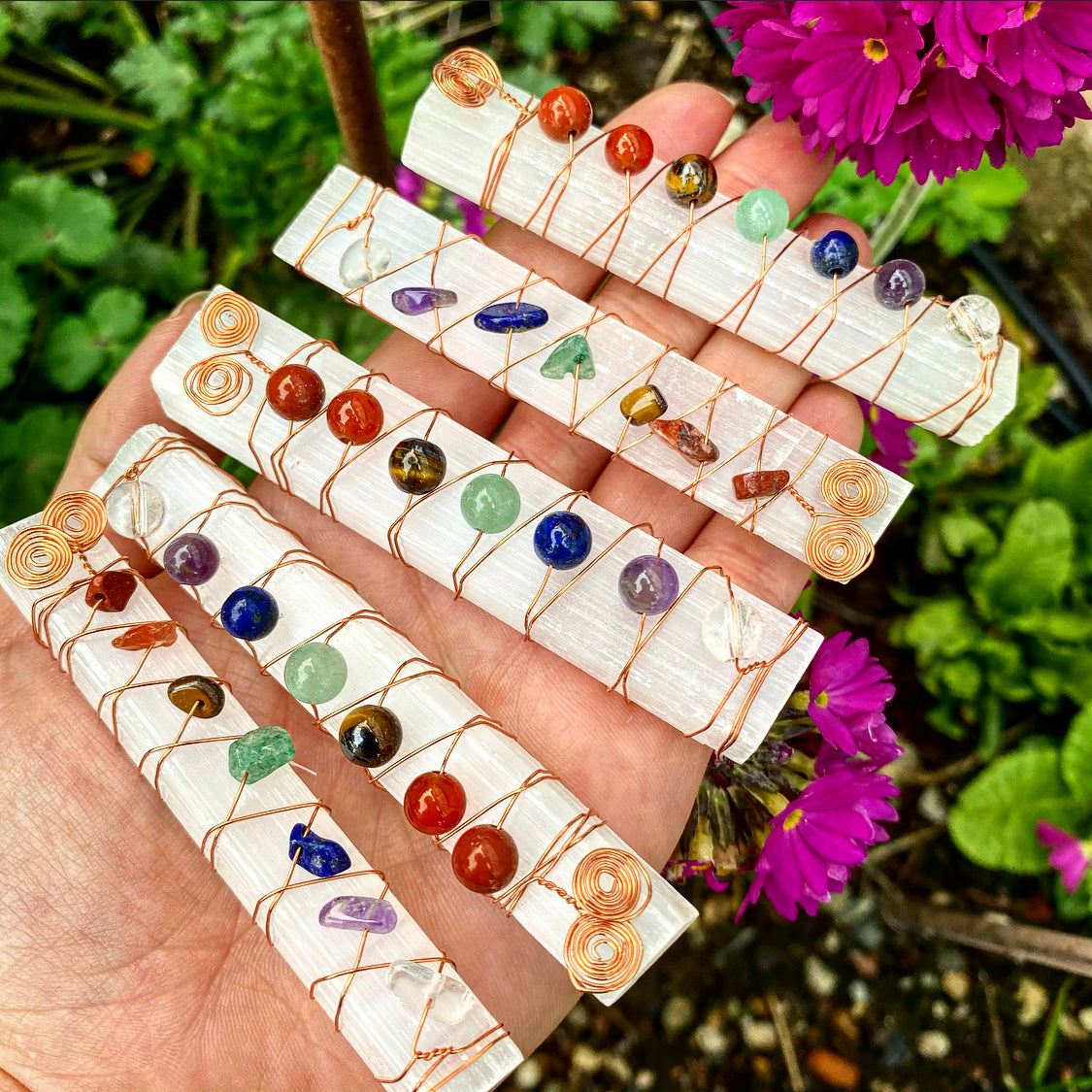 So glad these are back in stock, absolutely love mine thank you so much!
So glad these are back in stock, absolutely love mine thank you so much!
Chakra Healing Selenite Wand
Product is as describe. I would buy again.
We are here to give guidance and provide you with only the BEST advice, crystals & spiritul decor!
Chat with us on our 24/7 live messenger service and we will guide you in choosing the perfect crystal for yourself or a loved one! We are always here to help ♥
Ethically Conscious

All of our crystals are 100% natural & ethically sourced.

100% Satisfaction

Premium quality, service, and support guaranteed.

24/7 Support

Message us on our live chat for 24/7 Excellent Customer Support, always.

Worldwide Shipping

Fast & reliable shipping services, shop with confidence.
Crystals for your pocket ♥
A collection of our best everyday carry crystals to keep close by, with you all day and just the right size to fit in your pocket!
Explore
So glad these are back in stock, absolutely love mine thank you so much!
So glad these are back in stock, absolutely love mine thank you so much!
Chakra Healing Selenite Wand
Product is as describe. I would buy again.