Regular price
$38.00 USD
Sale price
$35.00 USD
Unit price
per
Sale
Sold out
Mini Chakra Gift Box by Endless Guidance
Thoughtful and perfect gift for anybody that loves crystals or who is wanting to learn more about crystals and wants a starting point that isn't too overwhelming. This set is great for yourself or a loved one. The set includes 10 pieces and is presented in a lovely wooden gift box. 
Crystal Properties
Citrine energises every level of life. It cleanses the chakras and opens the intuition. Citrine attracts wealth, prosperity and success. It imparts joy, wonder, delight and enthusiasm. Raises self-esteem and self-confidence. Stimulates the brain, strengthening the intellect. Citrine promotes motivation, activates creativity and encourages self-expression. Enhances concentration and revitalises the mind.  It releases negative traits, depression, fears and phobias. Emotionally balancing.
Clear Quartz is known as the "master healer" and will amplify energy and thought, as well as the effect of other crystals. It absorbs, stores, releases and regulates energy. Clear Quartz draws off negative energy of all kinds, neutralising background radiation, including electromagnetic smog or petrochemical emanations. 
Rose Quartz is the stone of universal love. It restores trust and harmony in relationships, encouraging unconditional love. Rose Quartz purifies and opens the heart at all levels to promote love, self-love, friendship, deep inner healing and feelings of peace. Calming and reassuring, it helps to comfort in times of grief. Rose Quartz dispels negativity and protects against environmental pollution, replacing it with loving vibes. It encourages self forgiveness and acceptance invoking self trust and self worth.
Fluorite cleanses and stabilises the aura. It absorbs and neutralises negative energy and stress. An excellent learning aid, Fluorite increases our powers of concentration, self-confidence and helps us in decision-making. It encourages positivity, balances the energies, and improves balance and coordination, both physically and mentally.
Amethyst is a powerful and protective stone. It guards against psychic attack, transmuting the energy into love and protecting the wearer from all types of harm, including geopathic or electromagnetic stress and ill wishes from others. Amethyst is a natural tranquiliser, it relieves stress and strain, soothes irritability, balances mood swings, dispels anger, rage, fear and anxiety. Alleviates sadness and grief, and dissolves negativity. Amethyst activates spiritual awareness, opens intuition and enhances psychic abilities. I
Lapis Lazuli is a stone of protection that may be worn to guard against psychic attacks, Lapis Lazuli quickly releases stress, bringing deep peace. It brings harmony and deep inner self-knowledge. Encourages self-awareness, allows self-expression and reveals inner truth, providing qualities of honesty, compassion and morality to the personality. 
Red Jasper is known as the "supreme nurturer". It sustains and supports through times of stress, and brings tranquility and wholeness. Jasper provides protection and absorbs negative energy. It balances yin and yang. Jasper clears electromagnetic and environmental pollution, including radiation. 
Pyrite is a powerful protection stone which shields and protects against all forms of negative vibrations and/or energy, working on the physical, etheric, and emotional levels. It stimulates the intellect and enhances memory, helping to recall relevant information when needed.
Rhodonite is a stone of compassion, an emotional balancer that clears away emotional wounds and scars from the past, and that nurtures love. It stimulates, clears and activates the heart. Rhodonite grounds energy, balances yin-yang, and aids in achieving one's highest potential. It heals emotional shock and panic. 
Shipping & Guarantee

Our Guarentee: If for any reason you are not completly satisfied with your purchase, please email us at: info@endlessguidance.com. We respond to all emails within 24hrs and we will always be happy to resolve any issues.

Shipping: FREE Over £30. The shipping time will depend on your exact location. All orders before 2pm GMT will be dispatched same day, during higher demand seasons this may increase to 1-2 working days. We thank you in advance for your understanding & support!
Return policy

In the unfortunate event that an item has arrived damaged, you must contact us within 7 days from the dispatch date at info@endlessguidance.com

Please include a photograph of the damaged/incorrect item(s) for our reference.
Share
View full details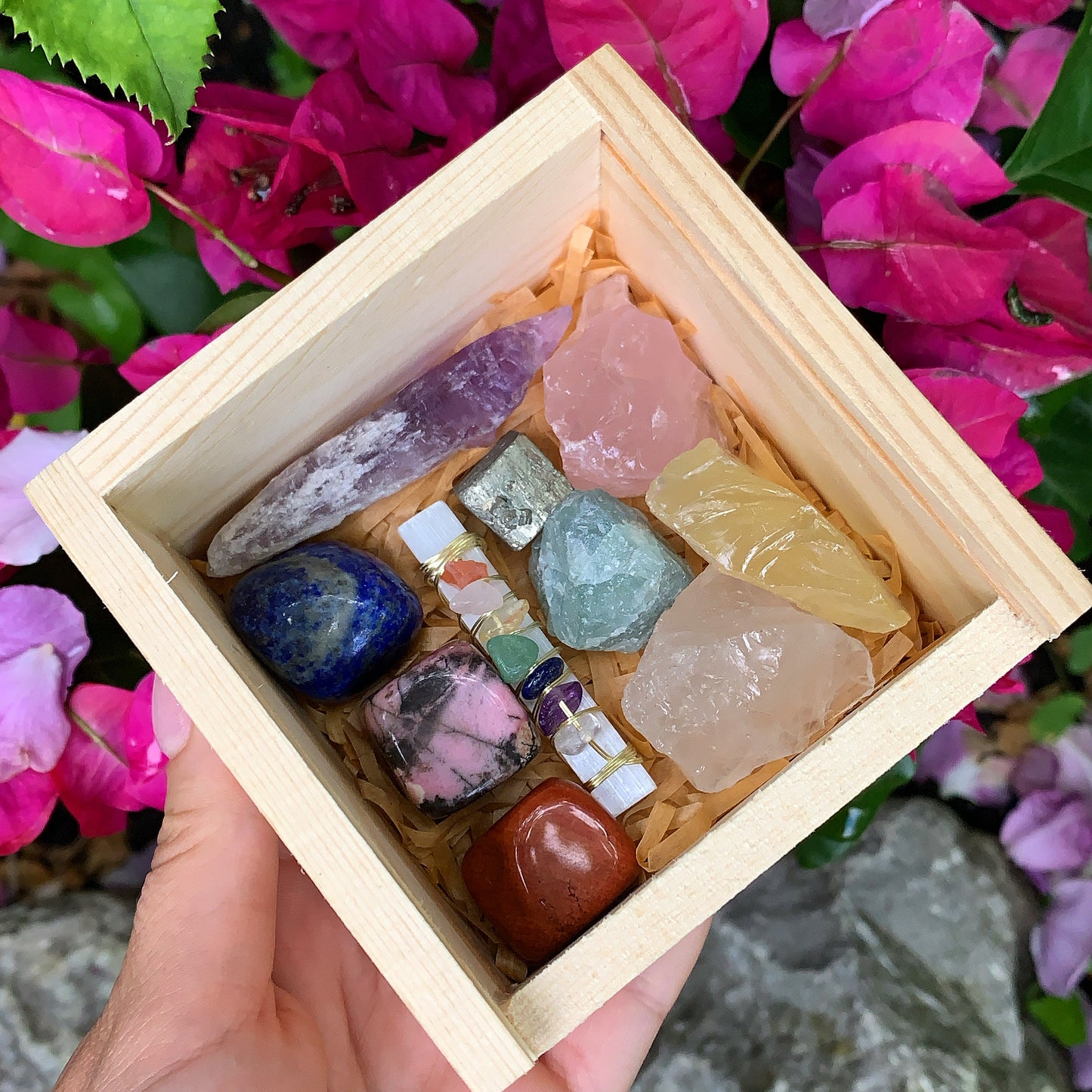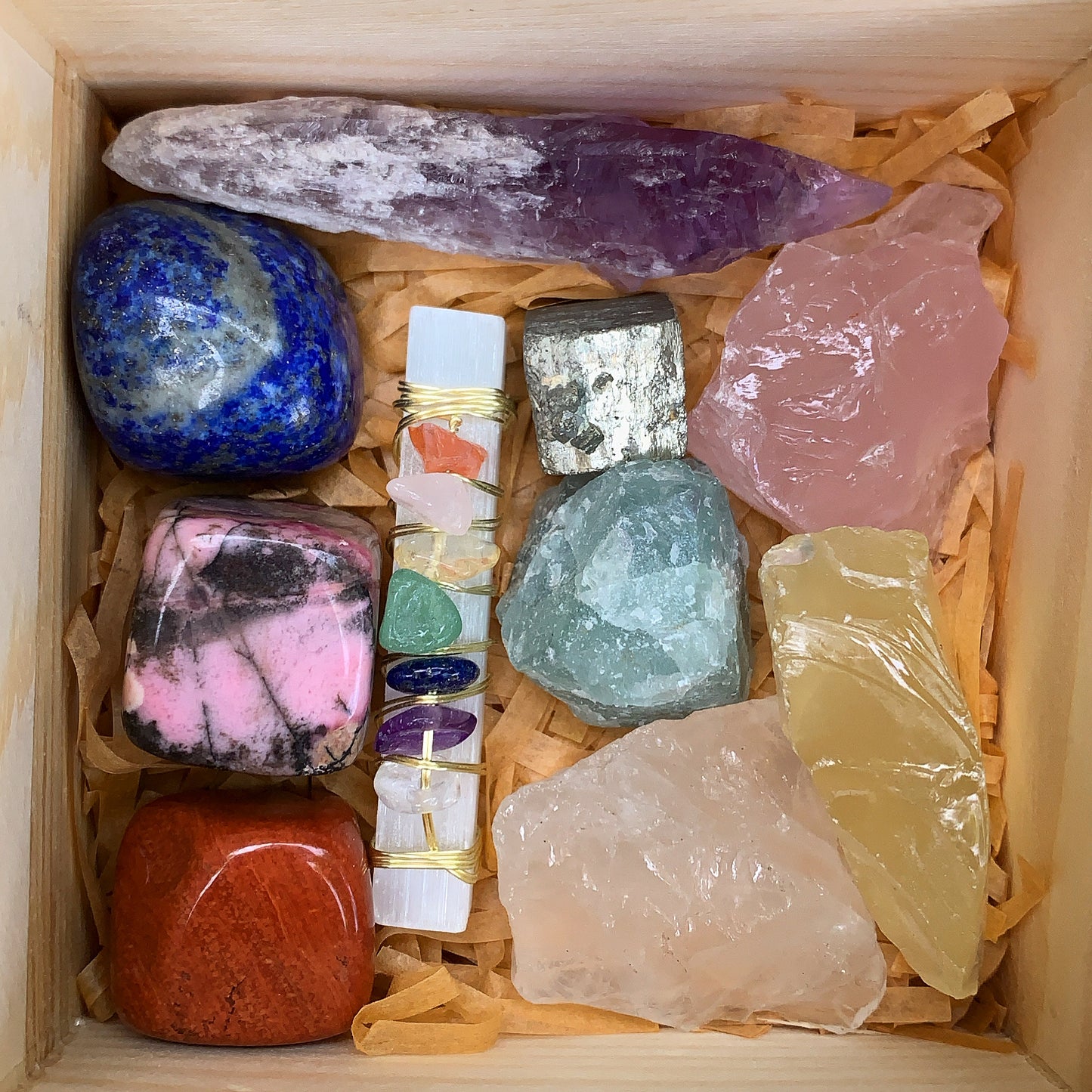 Lovely little crystals, daughter was pleased.
Lovely little crystals, daughter was pleased.
What a wonderful box, brilliant delivery time also.
What a wonderful box, brilliant delivery time also.
A surprise for Mother's Day!
I absolutely adore this box of delights! I was especially taken with the size of the crystals! They all are beautiful and have such lovely energy. Thank you so much 😊
Gift for my mums bday she loved it
Gift for my mums bday she loved it
We are here to give guidance and provide you with only the BEST advice, crystals & spiritul decor!
Chat with us on our 24/7 live messenger service and we will guide you in choosing the perfect crystal for yourself or a loved one! We are always here to help ♥
Ethically Conscious

All of our crystals are 100% natural & ethically sourced.

100% Satisfaction

Premium quality, service, and support guaranteed.

24/7 Support

Message us on our live chat for 24/7 Excellent Customer Support, always.

Worldwide Shipping

Fast & reliable shipping services, shop with confidence.
Crystals for your pocket ♥
A collection of our best everyday carry crystals to keep close by, with you all day and just the right size to fit in your pocket!
Explore
Lovely little crystals, daughter was pleased.
Lovely little crystals, daughter was pleased.
What a wonderful box, brilliant delivery time also.
What a wonderful box, brilliant delivery time also.
A surprise for Mother's Day!
I absolutely adore this box of delights! I was especially taken with the size of the crystals! They all are beautiful and have such lovely energy. Thank you so much 😊
Gift for my mums bday she loved it
Gift for my mums bday she loved it